It's about time this lady had her own introduction! Amy is our resident piercer and if you've had anything pierced by her you can testify to her professionalism, efficiency and general sweet-heartedness. Her biggest downfall is her tendency to play Blue when left in charge of the studio sound system; she pretends to be cool with her head-to-toe coverage of tattoos and array of hair colours, but she's slipped up here.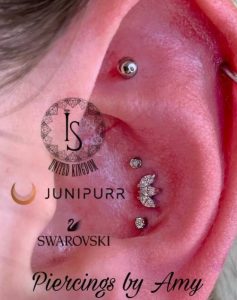 Amy had an interest in the tattoo and piercing industry since she was a teenager but couldn't find the opportunity to get into this line of work. After leaving school she studied beauty therapy and went on to study social work with children at university; this really comes across when she's calming many a nervous customer and her bedside manner – whatever their age! After taking time off to have her first sproglet, she noticed a vacancy at Pictures of Lily, got the job as an apprentice, a year later was our full time piercer and has never looked back.
We love her dedicati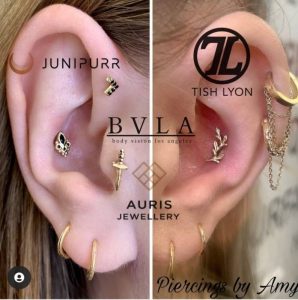 on to the role and willingness to learn. The piercing industry is constantly evolving and she keeps on top of her game by attending UKAPP (United Kingdom's Association of Professional Piercers) conferences, listening to podcasts, watching videos by reputable piercers and making sure she's up to date with the latest guidelines by attending online courses. Amy's love for the industry and respect for her profession as well as her customers makes her an integral part of the Pictures of Lily team.
What drew Amy to the industry is how it allows you to be yourself. Piercings can make people feel better about themselves and allow personal expression through placement and different jewellery styles. Amy is especially good at curating projects, selecting jewellery pieces from our basic to high-end ranges that will suit a customer's anatomy, tastes and budget, creating something stylish and unique, making people stand out from the crowd and feel special.
Follow her on social media for inspiration and to keep an eye on her work:
https://www.instagram.com/piercingsby_amy/