CHILDREN'S EARLOBE PIERCING
One of the questions we get asked often is "Do you pierce children's earlobes"?  The answer is YES! We are happy to pierce children 7+, with mum or dad present. Children's earlobe piercing is one of the most rewarding services we offer.  It is a privilege to get kids started out right; with a safe piercing, in a hygienic environment with implant grade jewellery and attention to placement, but primarily our focus is on a positive experience and them walking out with a beaming smile on their faces.
In recent years, parents have become more aware about the dangers of having their children's ears pierced with a reusable piercing gun. The Association of Professional Piercers says "While piercing guns may seem to be a quick, easy and convenient way of creating holes, they have major drawbacks in terms of sterility, tissue damage and inappropriate jewellery design". At Pictures of Lily we only pierce with needles.
HOW WE PIERCE CHILDREN'S EARS
Our ear piercings are performed the same way any of our piercings are.  We use sterilised, implant grade body jewellery and sterile, single use needles and tools to perform the piercing.  We don't believe there is a safe ear-piercing gun design, so we never use ear piercing guns (guns cannot be steralised properly as they melt in an autoclave).
The jewellery we use is an implant grade titanium flat-back stud design called a labret, this prevents pointy ends from digging in to your child's neck when they sleep!  Schools tend to also prefer them from a health and safety aspect. It also means that butterfly backs are a distant memory as well, allowing room for any swelling and less small parts for bacteria to accumulate in.  No more getting hair wrapped into those clasps!
WHAT IF MY SON OR DAUGHTER WANTS TO BACK OUT?
At Pictures of Lily, the piercers believe it is very important to take "no" for an answer from your child.  Forcing them to go through with it is traumatic for all of us: parents, piercers, but especially the child. Ear piercings aren't worth it!  Yes, that means occasionally we deal with a little 'wasted' time, but from our point of view it's always worth it to stop, wait, and deliver the best experience possible, even if that means no piercings are performed that day. The reason we only pierce 7+ is because we believe at that age children are more aware of the process. Often children say they want a piercing, but aren't fully aware of what is about to happen and the whole process can be very scary when it comes down to it. Also younger children are more prone to touching and fiddling with their fresh piercings, leading to healing issues. The older the child, the more they will understand. We always explain every step as we go along and make every effort to help relax our clients, particularly youngsters.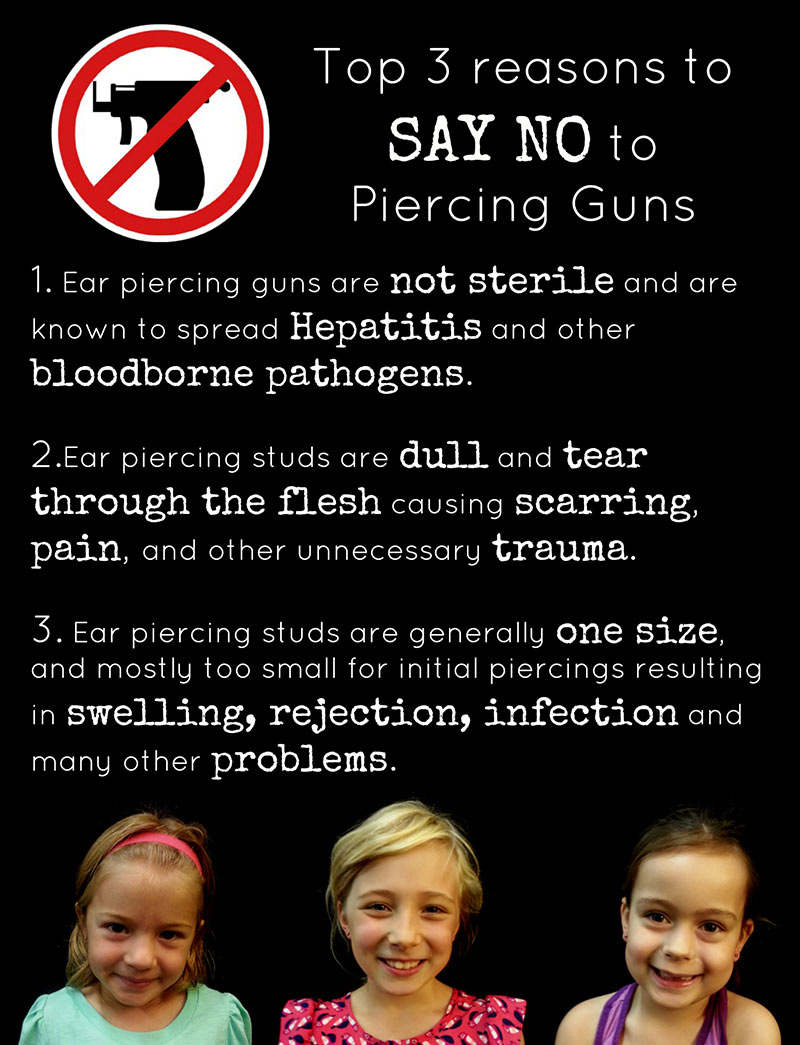 CAN I BRING MY OWN JEWELLERY?
Unfortunately, no.  As professional piercers, we really must insist on fully sterilised, implant grade materials for initial piercings and we must have the paperwork to back that up.  We always advise sticking to good quality jewellery, so continue to wear either implant grade titanium earrings or gold, but never anything less than 14 carat. Other metals, particularly nickel, which can be found in cheaper jewellery and 9 carat will often aggravate and cause issues with a piercing, in particular with young, sensitive children, so it is worth investing. We sell an array of body jewellery to suit all tastes and budgets and if we don't stock something you want, then we can try and get it for you.
HOW DO WE PREVENT INFECTION?
The good news is infection is extremely unlikely.  In general, the small problems that can creep up with an earlobe piercing are usually fixed with small adjustments in aftercare. We strongly encourage our clients to visit us for free follow-up consultations and to get that longer bar used on initial piercings changed down to a snugger fitting bar. Even if all is well we absolutely love seeing how your piercings are healing and making sure jewellery is working out as planned.
We give out full aftercare advice, along with an information sheet to take away with you, just incase you forget what we said! It is important that the new piercing is not touched and fiddled with. Once upon a time, the advice was to turn your earrings every day, this is the worst thing you can do for two reasons; firstly you should not be touching what is essentially an open wound with anything that is unsterile and if you keep knocking/twisting the earring, it will just interrupt the wound from trying to heal itself.
MORE QUESTIONS?
Please pop by the studio, call us on 01767 318109, email us at picturesoflily11@yahoo.co.uk or contact us through our Facebook page https://www.facebook.com/PicturesofLily2015/ and we can answer any questions you may have.  Also, feel free to come by the studio if you feel you'd like to check us out first and want us to explain things, we'd be more than happy to.