I'm proud to say, Pictures of Lily are now stocking the amazing jewellery created by Industrial Strength, who are the professional piercers first choice for body jewellery the world over.
So, if you're looking for something a bit special and of exceptional quality that won't turn your ear green, come by the studio to check out the beautiful handcrafted Industrial Strength pieces we stock. Due to the fact the titanium is implant grade and hand-polished, it helps with healing and keeps its shine. Not only that, the ever-so sparkly gems are genuine 100% Swarovski's, so you'll sparkle forever. This jewellery also comes with a LIFETIME GUARANTEE, so what more could you ask for!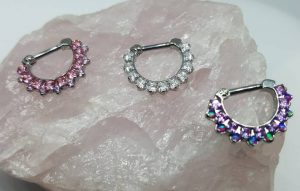 Not all body jewellery is created equally. The jewellery manufactured by Industrial Strength clearly stands high above the rest. Their line of  ASTM F-136 Implant Grade Titanium body jewellery is known around the world for its superior quality and value. Since its inception in 1991, Industrial Strength has been the number one choice for fine quality body jewellery by professional body piercers worldwide……period. Their partnership with SWAROVSKI GEMS ensures that they use the highest quality gemstones available. Through extensive research and collaboration with some of the world's finest body piercers, Industrial Strength continues to create unique designs in the ever-evolving world of body jewellery.